'Une femme' shows photos but actually resembles a novel.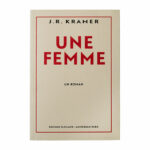 By Margot Dijkgraaf

Halfway into the labyrinthine route through Huis Marseille you suddenly stand in front of three light-box images: delicate, graceful branches illuminated by brightening and fading green, orange and red. The branches are coloured by the changing of a traffic light, in a nightly Beirut. The nocturnal impression is extended in a subsequent, pitch-dark room, where you only hear the sounds of the city: something resembling fluttering laundry, traffic in the distance, vague clink and clatter. From the deep dark you step further into a brightly lit cube, where hundreds of objects displayed on postcard format take you back into the world of Monsieur Khiar.


Monsieur Khiar, an elderly Lebanese man and former teacher, is the thread that runs through the story of this show, which in a way more closely resembles a novel than an exhibition. The short texts guiding the visitor are from 'Une femme', a unique dummy that the visitor can look through upon entry and which is designed as if published by the prestigious French publishing house Gallimard: cream cover, red letters, red lining.
The exhibition-novel contains stories that are literary and visually cross-linked with each other. There is the story of the Beirut of the sixties, of before the Civil War, the city of fashion conscious Greta Garbo-like women, American cars and ambitious construction projects. There is the puzzling obsession of a contemporary photographer, alter ego of Jeroen Robert Kramer, for the old Monsieur Khiar. The photographer, we read, used to work for The New York Times and photographed war scenes with which he earned good money. According to 'Une femme', he now has enough of the 'gruesome spectacle' and only needs silence.

 

The loaded silence of Georges Perec, of Patrick Modiano, the despair of Beckett – the exhibition refers to them. The absurd images of the hundreds of artefacts from the life of Monsieur Khiar do indicate in which world he lives his life, but grasping its essence, summarizing its core, no, they can not do that. Just as the objects of Perec's novel 'Les choses' can't give meaning to the lives of his protagonists.
That the novel titled 'Une femme' has in fact not been published, that it does not exist as a commercial object, fits imperceptibly in the project. The quest remains open, the memory continues to work, nothing is absolutely clear. And where is this 'femme' anyway?
It makes visiting this exhibition an exciting and eminently literary adventure, a beautifully crafted maze of associations, which asks the question what tricks we come up again and again in order to look at ourselves and explain our lives.